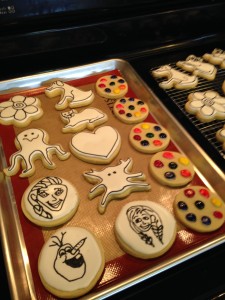 It's been quite a while since I have had a moment to sit down and write something on my little blog….but today I have a moment! So I thought I would share these fun cookies that the kids can paint. Super easy, super fun!
1.  Make your fave sugar cookie recipe or try this delicious recipe of mine for almond sugar cookies (can leave out the almond flavor if desired) and cut into desired shapes.
2. Bake and cool cookies.
3. Make royal icing. Tint a small portion of the icing black and leave the rest white.
4.  Put icing into your piping bags.
5. I did one cookie at a time. I flooded the cookie with white and then drew the outline or design with black.  The black icing should fall into the white so that it's flush when it's time to paint.  Forgive my bad free hand drawing on my cookies….if only I had a fancy projector to help me draw on cookies;)
6.  To make the paint pallet cookie, I put small drops of white royal icing onto the circle cookies.  Once the icing was dry, I painted food coloring onto each little circle of hardened icing.
6. Let cookies dry overnight.
7. Now for the painting fun, give each child a paint pallet cookie, a cookie to paint, a paintbrush, and a cup of water. Just like watercolors, have the child dip the brush into the water and lightly run over the color circle on the pallet cookie. Paint the cookie!