It's been a long time since I have posted anything mainly because I have started working again…I am blessed to be able to now teach preschool part time and stay home with my kids too!  Enough of that and onto the reason I sat down to post….
We went to the in laws house over the weekend and enjoyed the best salsa I have ever eaten. My super talented mother in law found a salsa recipe and tweaked it to perfection.  Since I want to remember how it's made, I am writing it down and sharing it with you! I made my own batch and learned a few things in the process that I will share as well.  Enjoy!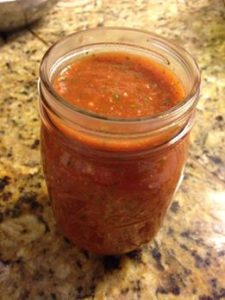 Ingredients:
28 oz can of whole peeled plum tomatoes, including juice
15.5 oz can of tomato sauce
1 small onion, roughly chopped (I use half of a sweet yellow onion.)
1 to 2 jalapeno peppers, seeded and chopped (mine were small so I used three)
3 whole garlic cloves
1 and 1/2 teaspoons ground cumin
1 teaspoon salt
1 teaspoon sugar
1 small handful of cilantro leaves (careful not to add too much as it can be overpowering)
3 Tablespoons of lime juice
Directions:
Throw all ingredients into your food processor and pulse until you reach desired consistency!  Taste and see if you want to add more salt, cilantro, jalapeno pepper, and so forth to make it just right!