SO I saw an idea for making slime for the kids to give to their classmates for Valentine's Day….what a great idea. Especially for the kids with allergies and such….nice to have non candy options!
Here's how I made it work for what we need….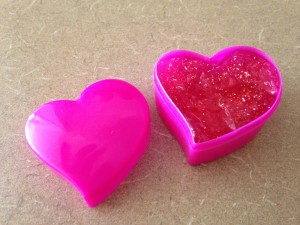 You will need:
1. Clear Elmer's Glitter glue
2. Hot water
3. Borax
4.  Storage containers (these heart containers can be found at your Dollar Tree store) or ziploc bags
5. Glitter (optional)….if you want more sparkle
To make a batch of slime:
Empty the bottle of glue into a bowl.
Fill the empty glue bottle with hot water and shake.
Empty the glue bottle into the bowl with the glue and mix. If you want to add more glitter, do it now.
In a separate bowl, mix 3/4 cup hot water with 3/4 teaspoon of borax.  Mix well.
Slowly pour about half of the borax mixture into the glue bowl and mix. The slime will come together the more you  mix and knead it.  It takes time. If you use too much water and can't get it to mix in, you can just drain off the water.  You can add more of the borax water if needed as well.  Just know that more or less borax yields different consistencies. I like our slime a little less on the slimy side so it doesn't make such a mess when the kids play!
*When making this for my own kids to play with I make each kid one batch using one bottle of glue.   To make the Valentine's hearts I will probably make two recipes and divide the slime into the containers.  They are tiny 1.5″ containers.