My daughter is in first grade this year. I am so thankful she has an amazing teacher. One thing I really appreciate is the way she does homework…..it's all purposeful! When I taught I will admit that I went along with all the other teachers making my students do the "typical" spelling homework. You know the write your words 3 times, use each word in a sentence, etc. Last year I had the "privilege" of doing that kind of homework with my sweet girl….and it wasn't that fun. Although she did learn a lot from it:)  I think in the future when I return to the classroom, I will be changing the way I do homework! This year my girl's spelling homework isn't that kind….so it allows me the freedom to practice spelling words in any way I choose. So let's make this fun: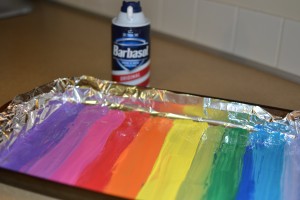 Take a jelly roll style pan and cover it in foil. Paint colored stripes with acrylic paints and let it dry. Spread a thin layer of shaving cream on top. Have your child practice writing their words in the shaving creams revealing a rainbow underneath! Mine loved this!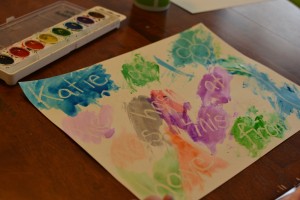 Take a white sheet of paper and write your child's words in white crayon. Let the child use water colors to reveal the hidden words!