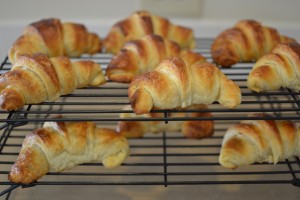 Check out these beauties! I am so excited with how these turned out. A couple of years ago I had some cinnamon rolls that a lady made at my women's Bible study group.  I was so impressed that she made them from scratch and decided to try to make some myself. Never had I worked with yeast before, but I set out to make cinnamon rolls and that I did.  My love for making things has grown from that first adventure making cinnamon rolls over the last two years, and I have to say that each time I try a new recipe I get so excited! I LOVE to go to a bakery and grab a croissant. It's not something I have the luxury to do often though. I decided to try out making them myself.  I researched for a few days and watched how to videos. I finally picked a recipe and went for it. I have to say that I will use this recipe again…this IS IT!  Making croissants isn't hard but does take some time. SO I will share with you how I did it and the recipe along with how to video I watched.
Day 1: I made the dough. I put it in a floured cake pan (covered) to set overnight. I also made the butter square which is a cup of butter made into a 7×7 square on parchment paper.
Day 2: I rolled the dough out into a 10″ square and placed the butter square on top. Then I folded the dough onto the butter kinda like wrapping a present. Next I rolled the dough into a rectangle measuring 8″ wide and 24″ long. Fold that into thirds, wrap, and refrigerate for 30 minutes. Take out roll out again into 8×24″ rectangle and fold into thirds, wrap, and refrigerate for 30 more minutes. Now one last time roll it out, fold into thirds, wrap, and then refrigerate overnight.
Day 3: Take out the dough and cut it in half.  Roll each half of dough into a 8×22″ rectangle. Cut into squares and then cut each square in half to make two triangles. Roll up and place on parchment paper covered baking sheet. Let rise for an hour. Make an egg wash with one egg and some milk.  Egg wash each croissant and bake at 400 for 20-25 minutes. I had two trays of croissants. Halfway through baking time I switched the trays so that they all cooked evenly as suggested in the video.
*I got 12 good sized croissants and a few tiny ones from the scraps. Let me just say the are PERFECT! Every minute spent making these was well worth it!
Here are a couple of pictures along the way….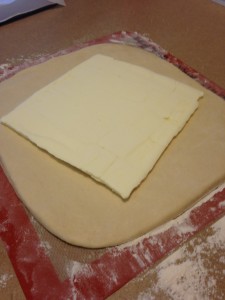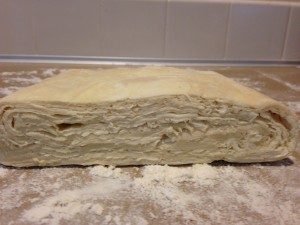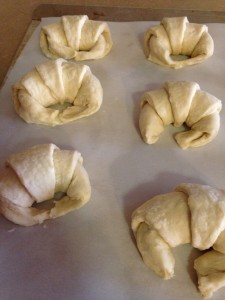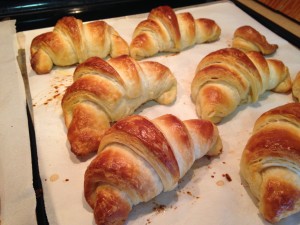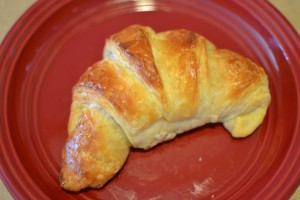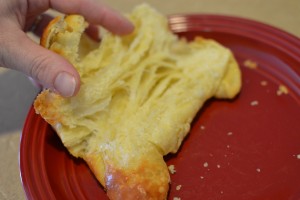 Click here for the recipe and how to video!