For teacher appreciation week, I decided to make my daughter's teachers each a cookie bouquet. This was my first attempt at making them so I didn't take many pictures throughout the process as I wasn't sure how successful I would be:) But I did it! They were adorable and just as I had hoped. So I will share what I have learned so you too can make a cookie bouquet. They would be the perfect present for Mother's Day, Grandparent's Day, or just because!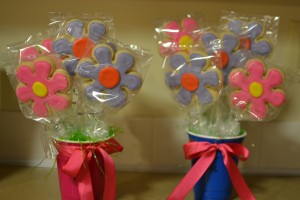 Let's start with making the cookies:
*This is a recipe from my sister that I have shared before, but I will add it here so it's all together. Feel free to look back at this post from my sister for more cookie ideas and tips!
Ingredients:
2 1/2 cups of unsalted butter at room temperature
2 eggs at room temperature
3 teaspoons of vanilla
5 and 1/4 cups of all purpose flour
1 tsp of salt
2 cups of white granulated sugar
Directions:
1. Cream the butter and sugar
2. Add eggs and mix
3. Add vanilla and mix
4. Mix salt and flour and whisk together in a separate bowl
5. Slowly add the flour to the creamed butter mixture
6. Mix on low approx 30 sec then scrape the sides and mix again
7. It is mixed when it clumps around the paddle.
8. Take the dough and divide it into four pieces.
9. Grab some parchment paper and place a piece of dough onto the paper. Now lay another piece of parchment on top. Roll out the dough between the two sheets of parchment paper. This keeps it from sticking to your rolling pin. I also use spacers on my rolling pin to ensure the thickness of the cookies is uniform. I make my cookies 3/8″ thick. Repeat this process with the other three pieces of dough. 10. Now place all of the rolled out dough (still between the parchment paper) into the fridge.  Wait at least a few hours before cutting the dough with cookie cutters. This will allow the dough to harden enough to cut easily so you get the shape you want.
11. Once the dough is chilled, use a cookie cutter to cut out your shapes.  If you want to make the cookies on  a stick go ahead and insert the stick into the cookie once you cut it. Be sure the stick isn't showing through on either side of the cookie.
12. Place the cut out cookies onto wax paper into a Tupperware container. Place wax paper between each layer of cookies. Now put the container into the freezer overnight. I know this sounds like too much but the frozen cookies will hold their shapes when baked, so please don't skip this step!
13.  The next day take the frozen cookie cut outs out of the freezer. Bake for 16-18 minutes at 350. The cookies will slightly lighten in color when they are done. Allow the cookies to cool on the cookie sheet for 10 minutes once baked and then transfer to a cooling rack. Don't put frozen cookies onto a hot cookie sheet or the cookies will start to melt and lose some shape.
14. Allow the cookies to cool completely before decorating. I let mine cool and then stored the cookies in a container overnight. The next day I began the decorating process.
Here are some baked cookies cooling! See how well they held their shapes!
*Just as a sidenote, I did bake the cookies with the sticks already in place!
Here's how to decorate using royal icing:
Mix 4 cups of powdered with 1/4 cup of meringue powder.
Slowly mix in warm water until you have a thick consistency. You will need to start with pretty thick icing to be able to pipe the outlines on the cookies which will hold the rest of the cookie icing in place. I think I added about 1/4 cup of water here. But let me say that a little water goes a long way so add it slowly!
Once you have a thick consistency, add in desired coloring and place the icing into a piping bag.
Outline the cookies and let dry for a little bit. Usually once you are done outlining all of the cookies the first ones are dry enough to flood.
To make the "flood" icing, you will use your thick icing and add a teaspoon or two of water. You want it to be runny enough to spread easily on the cookie but not too runny. This is the tricky part….and I am not an expert. My sister has it mastered so you can always refer back to her post here! Pour the flood icing into a cookie decorating bottle (I just use the cheap mustard/ketchup style bottle from Walmart) and flood the cookies inside of the outline. Don't use too much icing or it will overflow your outline. You can pop any bubbles with a toothpick. Allow this layer of icing to dry overnight before doing any more decorating. I just leave the cookies out on cooling racks while drying. For the centers of these cookies, I made circles of icing on parchment paper. Once they were dry, I placed the circles onto the cookies with a tiny bit of royal icing as the glue.
The next day you can make more royal icing and decorate as desired.
Once the cookies are dry, I placed clear bags onto each once and tied them closed.
To make the bouquet:
Grab your desired container. Make sure it is pretty study. The one I chose was too light to hold the weight of the cookies, so I had to add a bag of rice inside of the cup to help balance it out.
Place a piece of Styrofoam into the cup. This will hold the cookie sticks. Note to self: buy the more expensive Styrofoam as this cheap stuff is well, cheap!
I used Easter grass on top of the Styrofoam as a cover…you could use anything you would like though.
Arrange the cookie sticks into the cup and you have a cookie bouquet!