My mom and dad came to visit a couple weeks ago and since it was close to her birthday I got to make her a cake. She loves chocolate and peppermint flavors. Who doesn't though?! I found a recipe to make mint flavored buttercream, and it was too good not to share!
Ingredients:
2 sticks of butter, softened
6-8 cups powdered sugar
1/4 cup or so of milk
1/2 tsp of peppermint extract
a few drops of green food coloring (optional)
Directions:
Using an electric mixer on medium-high speed, beat the butter until smooth and fluffy.
Add the powdered sugar, a cup at a time, until mixture is dry and and almost crumbly.
Add the extract, food coloring, and then milk- a little at a time until frosting is smooth, creamy and spreadable.
*Original recipe from The Baker Chick can be found here.
*I made my favorite chocolate cake recipe which can be found here. It matched perfectly with this icing!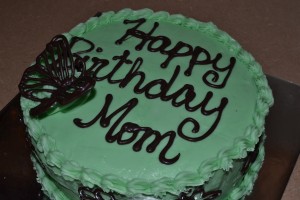 For the chocolate decorations, I will be adding a how to post soon!