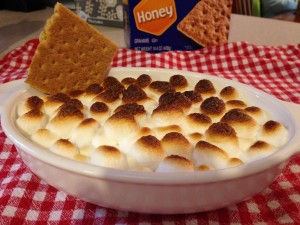 Let's just say this didn't last long in my house!  Everyone loves a good S'Mores, and this dip gives you just that!
Ingredients:
1 cup of milk chocolate chips
1 cup mini marshmallows
2 T milk
extra mini marshmallows for the top (around 1/4 cup)
graham crackers
Directions:
Melt chocolate, marshmallows, and milk in a sauce pan over medium heat.
Pour into an oven safe bowl.
Place mini marshmallows on top and broil until light brown.
Serve with graham crackers and enjoy!
*Recipe from Bakeaholic Mama!