A few days ago I posted a gluten free granola bar recipe, so today I am posting the same recipe just with a couple twists. I love a good recipe that is completely customizable and super simple to make! My husband told me these are like a candy bar only better!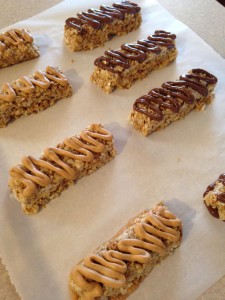 Ingredients:
one cup of rice krispies
one cup of granola (can be left out)
one cup of oatmeal dry oats (if you leave granola out, add an extra cup of oatmeal)
1/4 cup of brown sugar, packed
1/4 cup of butter
1/3 cup of honey
white chocolate chips (optional) or any other kind of chips your heart desires
Peanut butter or chocolate chips for the top drizzle (optional)
*With this recipe you always use one cup of rice krispies and two cups of either oats or granola. Today I did one cup of granola and one cup of oats instead of using two cups of the same ingredient.  Make sense?!
Directions:
In a medium bowl, mix the rice krispies, granola, and oats.
Stir in about a quarter cup of white chocolate chips if desired. Completely optional!
In a small sauce pan, melt the brown sugar, butter, and honey. Cook over medium heat. Once it starts to bubble turn heat down to low.  Cook for two minutes.
Pour liquid mixture over the dry ingredients and mix until combined.
Lightly grease a jelly roll style pan and press mixture into one side of the pan. Like this….

Let this cool for about 30 minutes.
Remove and cut into bars.
Just for fun I added a chocolate drizzle to some and a peanut butter drizzle to some.
To do the drizzle, just add some chocolate chips to a ziploc bag. Melt in the microwave for 20 second intervals until melted. Snip corner of bag and pipe onto cut bars. Let chocolate set and then enjoy!
This recipe makes about 8 bars.
Store bars individually sealed. I wrap each bar in saran wrap and then place all bars in a ziploc bag!

Hope you enjoy!