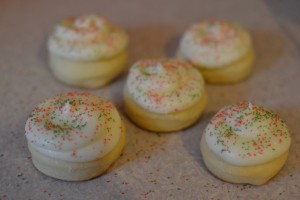 From time to time, I love picking up that little plastic box of Lofthouse cookies at the grocery store.  I have tried a few copycat recipes with little success. I will say these cookies are NOT a good copycat BUT they are certainly good.  Let me first say that I didn't roll out my dough thin enough….these cookies were pretty thick.  One cookie and you had enough kinda thing! I will add they are soft:)
I wish I knew where I got this recipe and who to give credit to….but I can't find the original link:( So here is the recipe:
Cookies:
6 Cups all purpose flour
1 teaspoon baking soda
1 teaspoon baking powder
1 Cup. butter, at room temperature
2 Cups. granulated sugar
3 eggs
2 teaspoon vanilla extract
1/4 teaspoon Salt
1 1/2 Cups Sour cream


Frosting:
1 Cups butter, room temperature
1 teaspoon vanilla extract
4 Cups powdered sugar
6 tablespoons heavy cream
Multi-colored Sprinkles
Directions:
In the bowl of a stand mixer with the flat beater attached, cream the butter and granulated sugar at medium speed until light and fluffy, about 3 minutes. Scrape down the sides of the bowl with a rubber spatula as needed. Add the eggs, one at a time beating until each is incorporated. Add the vanilla and sour cream and beat at low speed until combined.
Add the dry ingredients and beat at low speed until just combined, scraping down the bowl as needed. Dough will be a bit "sticky". Divide dough into two sections. Roll out dough between two sheets of parchment paper to desired thickness. Chill in fridge for a couple hours.
Preheat the oven to 425 degrees. Line 2 large baking sheets with parchment paper or spray them with nonstick cooking spray, set aside.
I sprinkle powdered sugar on the dough prior to cutting. Use a cookie cutter to cut circles or other shape. Bake for close to 8 minutes (depending on size and thickness). You basically just want to make sure they are pale golden in color. Don't overcook though!
To make the frosting, in the bowl of a stand mixer fitted with the paddle attachment, cream together the butter and vanilla. Slowly beat in the powdered sugar. Once smooth and creamy, add in heavy cream, 1 tablespoon at a time until the desired spreading consistency is achieved. If desired, add food coloring and beat until combined.
Once cookies have cooled completely, frost and add sprinkles. Allow frosting to set, then store in an air-tight container. Let cookies sit for several hours before serving to allow the flavors to develop.
Makes approximately: 5 to 6 dozen cookies (will vary on the thickness of the dough)