Each year I make gingerbread houses with my kids. I have always gone to the store and bought the kit. But now that I have three kids who each want to make their own, that just doesn't fit in the budget and it is fun to say I made these from scratch! So this year I have chosen to make my own gingerbread houses. So let me first tell you, this is time consuming! But I enjoy the time in the kitchen, so this doesn't bother me.  This is a fun project for mom and kids alike:)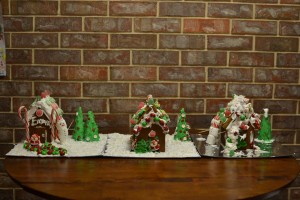 First you need to make the cookie dough and let it chill in the fridge overnight. I made four batches of this recipe and was extremely pleased with the dough. It's actually pretty tasty too.
Here's a little tip, once you make the dough divide into out into smaller batches. Place a batch of dough between two sheets of parchment paper and roll the dough out to 1/4 inch thick. Having spacers on your rolling pin really helps ensure the dough is all the same thickness and level.
Place the rolled out dough (still between the parchment paper) onto a cookie sheet and leave in fridge overnight or for a couple hours at least.
Remove the top sheet of parchment paper. Use a sharp knife to cut out your pattern pieces. Leave the pieces on the paper and bake at 350 for 25 minutes or so.  *I found my pattern pieces online. You can print them for free. I just printed on regular paper and used that to cut the pieces out. If I could only remember where I found them I would share the link;) Sorry this picture was taken with my phone late at night….had to do this step while the kids were asleep!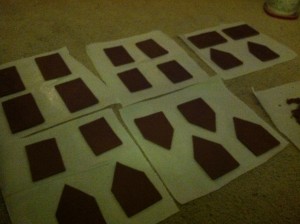 5.  Once the pieces are baked, let cool for a few minutes and then you will need to reshape them.  So by that I mean, grab a cutting board, serrated knife, and your pattern. Place pattern onto baked cookie. Trim the excess of cookie with the knife so that it is back to the original pattern size. *These cookies do spread a little when baking.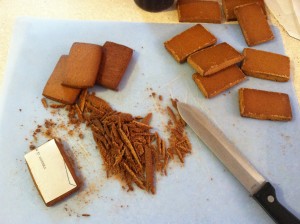 6.   Let your pieces harden and dry out overnight before assembling your houses.  Here are my pieces all set to go!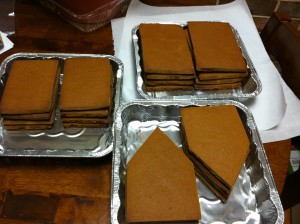 7.  Assemble the houses using royal icing. To make royal icing:
In your mixing bowl, combine 1/4 cup meringue powder with 1/2 cup of water. Beat until a stiff peak forms.
Mix in 4 cups of powdered sugar and beat until glossy. You should have a toothpaste like consistency.  If not, add 1/2 cup powdered sugar at a time until you get the right consistency.
Use a piping bag and open tip to build the houses. It helps to have a friend help hold the pieces together while you pipe the icing. Let the base of house dry for a bit before adding the roof.  Then let the entire house dry for a couple hours before decorating.
8. And now for the fun, grab a variety of candies and make some more royal icing and decorate away!
A few actions shots…
The five houses we finished….decorated by two five year olds, a three year old, and two one year olds!  SO MUCH FUN!
Let me know if you make gingerbread houses. Would love to hear all about it and see pictures.
* We used ice cream cones to make the trees!