I must say that this cake was way too easy to make and boy was it the best EVER! If you like caramel, this is a must go make right now cake!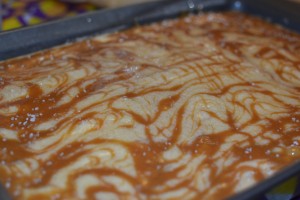 INGREDIENTS:
For the cake:
1 box of white cake mix, plus ingredients it calls for
1/2 cup sour cream
For the topping:
1- 12 oz jar of caramel sauce/topping
1 package of caramel candy melts (or an additional jar of caramel sauce)
Sea salt
For the buttercream icing:
1 cup (2 sticks) unsalted butter
3 cups of powdered sugar
4 teaspoons of vanilla extract
2-4 T of heavy whipping cream
DIRECTIONS:
Make the cake according to the directions on the box but add in 1/2 cup of sour cream to the batter. Bake as directed. I used a 9 by 13 cake pan and baked the cake for 28 minutes.
Let the cake cool.
Grab your cutest little kitchen helper and poke holes in the cake.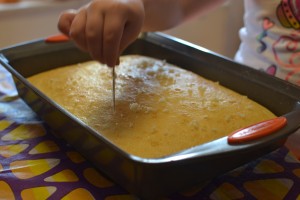 4.  Pour half of the jar of caramel sauce onto the cake and spread. Let is soak in for a few minutes while you make the buttercream.
5. To make the buttercream icing, beat two sticks of butter and three cups of powdered sugar in your mixer until light and fluffy. Add in the vanilla. Add the heavy whipping cream little by little until you get a nice smooth consistency. Now add the remaining caramel sauce into the buttercream and mix again. Try not to lick the spoon….this stuff is SO SO good!
6. Now spread the caramel buttercream onto the cake.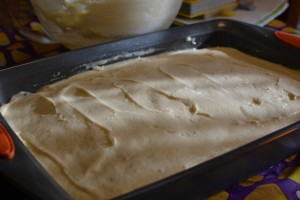 7.  Melt the bag of candy caramels and drizzle onto the top or use another jar of caramel sauce and drizzle over the buttercream.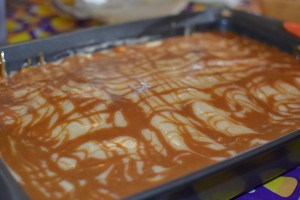 8. And to finish it off, sprinkle with sea salt to your liking!
Enjoy!
I found this recipe here but wasn't a fan of using store bought icing so I changed it to use real buttercream.