We made super cute Turkeys last year around this time, and my kids have been begging to make them again. So we did just that!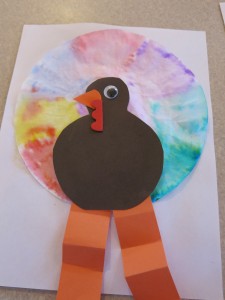 Directions:
Give each kid a coffee filter and markers. Have kids color the entire thing leaving a little white space here and there.
Fill a spray bottle with water and lightly mist the coffee filter so the color spreads.
Let the coffee filter dry while making the turkey.
I used a heavy brown card stock type paper and pre-cut the bodies out for the kids.
I gave the kids eyes, a wattle, and an orange beak. I had some leftover sticky foam pieces that I used. You could also use construction paper.
Next I gave them two strips of orange construction paper and had them fold them back and forth.
I also cut out little feet and let the kids glue those to the bottom of the legs.
Glue turkey body on the coffee filter.
Here are my kids' creations: