Winter is coming so it's time to start thinking about making soup! What pairs better with soup than a freshly made bread bowl?!  I have tried a few recipes, but this is the first one I actually will make again. The only thing I need to figure out is how to make the bowl taller….the flavor though is perfect! So let's get started making bread bowls.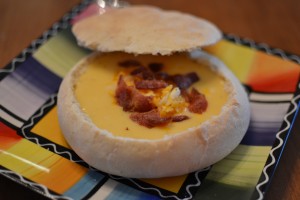 Ingredients (makes 6 bread bowls):
2  1/4  cups warm water
2 packages of active dry yeast (5 1/2 teaspoons)
1/2 cup (1 stick) butter, melted
2 Tablespoons granulated sugar
3 teaspoons salt
6 1/2 cups bread flour or all-purpose flour

Directions:
In your mixing bowl, combine the yeast and water. Let rest for about 10 minutes until yeast is bubbly/foamy.
Add melted butter, sugar, and salt and mix until combined.
Gradually add flour.
Once combined, allow your mixer to knead the dough for about 5 minutes.
Punch dough down and form into 6 equal sized balls.
Place on parchment paper, cover with a towel, and let rise until doubled.  Around an hour or so.
Preheat oven to 425 degrees and bake for 20-25 minutes, or until golden brown.
Let cool and cut off the top, remove some of the bread from the inside and fill with soup.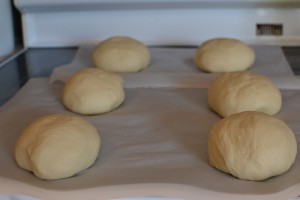 Here are the dough balls before letting them rise!
And after baking you will have a nice bread bowl like this one!
Original Recipe can be found here!