Want an easy bread that is sure to impress?? Well look no further because this is it. Easy to make and has tons of flavor!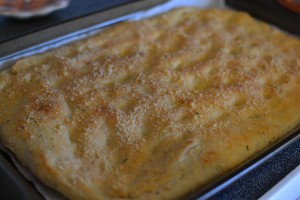 INGREDIENTS:
1 (1/4 ounce) packet active dry yeast  or 2 1/4 teaspoons of active dry yeast
1 cup warm water (105-115 degrees)
2 3/4 cups Better for Bread flour (all purpose works too)
1 teaspoon salt
1 teaspoon granulated sugar
1 teaspoon garlic powder
1 teaspoon oregano
1/2 teaspoon dried thyme
1/2 teaspoon dried basil
1 dash ground black pepper
1 tablespoon vegetable oil
For the top of bread you will need:
2 tablespoons olive oil
2 tablespoons Parmesan cheese (grated)
DIRECTIONS:
Mix the yeast and water in a small bowl. Let proof for 10 minutes (until bubbles begin to form).
In large bowl, stir together flour, salt, sugar, garlic powder, oregano, thyme, basil, and black pepper.
Add the yeast mix and vegetable oil to the dry ingredients and combine.
When dough has pulled together, turn out onto lightly floured surface and knead until smooth and elastic.
Lightly oil a large bowl, place dough in bowl, and turn to coat with oil.
Cover with damp cloth and let rise in warm place 25 minutes.
Preheat oven to 425 degrees.
Punch dough down, place on greased baking sheet.
Pat dough into 1/2-inch thick rectangle (doesn't have to be perfect).
Using fingertips make indentations in the dough.
Brush top with olive oil, then sprinkle with Parmesan.
Bake for 13-15 minutes until golden brown.
Original recipe can be found here.