Looking for a couple of kid-friendly Halloween treats that are super easy to make? Here are a couple I made in less than an hour and with only a few ingredients!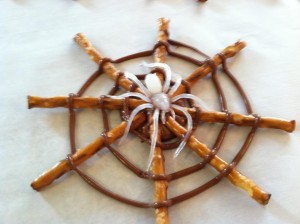 Pumpkin Marshmallows:
Place a lollipop stick into a marshmallow.
Then dip the marshmallow into melted chocolate (I used white chocolate colored with orange food coloring.).
Cover in sprinkles if desired.
I used buttercream icing to pipe on the leaves and vine.
Spider Webs:
Melt your chocolate in an icing bag.
On a sheet of parchment paper, make a few chocolate circles about the size of a nickel. These will serve as the center of the webs and help them hold together.
Lay 8 pretzel sticks into a star shape using a chocolate circle as the center.
Place a spider in the center and allow the webs to set until chocolate is dried.