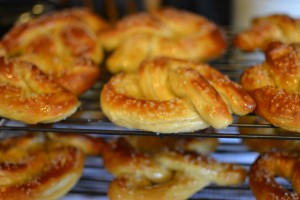 Who doesn't love a soft pretzel while out shopping at the mall? I certainly do! I saw this recipe in my Food Network magazine and had to try it immediately! This recipe is the best I have ever tried….perfect mall like pretzels and not too hard either!
Ingredients (makes 12 pretzels):
3 Tablespoons of unsalted butter, plus more for brushing melted butter on pretzels after baking
2 Tablespoons dark brown sugar
2 and 1/4 teaspoons of active dry yeast (or one packet)
2 cups warm water
6 cups of all purpose flour
2 teaspoons of kosher salt, plus more for sprinkling
2/3 cup of baking soda and 10 cups of water (for boiling pretzels)
Directions:
In your mixing bowl, combine 2 cups of warm water with 2 T brown sugar and 3 T butter.  Sprinkle 2 and 1/4 teaspoons of  yeast on top and let sit for 5 to 10 minutes until yeast is bubbly.
Add 3 cups of flour and 2 teaspoons of salt. Using the dough hook, mix on low speed. Add in remaining 3 cups of flour and mix again on low speed. Once the flour is incorporated, scrape down sides and mix on medium speed for a few minutes until the dough starts to pull away from the sides of the bowl.
Take dough out and knead for 5 minutes.
Brush a large bowl with melted butter, put dough in, and turn over to coat the dough in the butter.
Cover and let rise for about an hour.
Punch dough down and divide into half.
Divide each half into six pieces.
Roll each piece into a 24 inch rope and shape like a pretzel.
Place on parchment paper.
Cover loosely with a towel and allow to rise again for 30 minutes.
Using scissors, cut the parchment paper around each pretzel so that each pretzel is on its own sheet of paper.
Bring 10 cups of water and the 2/3 cup of baking soda to a low simmer.
Gently invert the pretzel and place it into the water with the parchment paper still attached.  Use tongs to peel the parchment paper off the pretzel.  This helps you keep that pretzel shape during the boiling process…..something I have always found to be the hardest part!
Boil for 45 seconds on each side…work in batches so you don't have too many in the water at the same time. Use a slotted spoon to remove pretzels and transfer to a baking sheet.
Salt the pretzels before baking.
Bake the pretzels at 425 for 12 to 15 minutes.
Brush with melted butter upon pulling them out of the oven!
*I would be happy to answer any questions you may have about this recipe. I tried to make it clear and concise without it being too wordy!  This is really a good recipe and although it has several steps it's not too hard!