Since the weather was a bit chilly today (snowy to be exact:), the kids and I made some almond flavored sugar cookies. Once upon a time, I didn't think I was a fan of almond flavoring…..but let me be the first to say I am a huge fan! These cookies are so good….the flavor is so perfect in every way!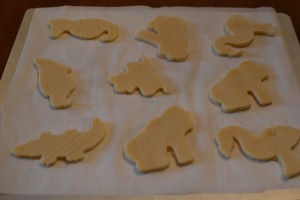 Let's start by making the almond sugar cookie dough!
Ingredients for the cookies:
1 cup of unsalted butter
1 cup of granulated sugar
2 eggs
2 teaspoons of vanilla
1 teaspoon of almond extract
3 and 1/4 cups of all purpose flour
1 teaspoon of baking powder (or leave it out so the cookies don't spread)
1/2 teaspoon of salt
Ingredients for the icing (optional):
1/4 cup of cold water
3 Tablespoons of meringue powder
2 cups of powdered sugar
food coloring, if desired
Directions:
Using your mixer, cream butter and sugar until light and fluffy.
Beat in eggs, vanilla, and almond extract.
Combine flour, baking powder, and salt in a separate bowl.
Slowly add the flour mixture into the egg mixture until completely combined.
Dough will be sticky.
Divide the dough into half and place each piece onto a sheet of parchment paper.
Lay another piece of parchment paper on top of each piece of dough.
Use your rolling pin to roll out the dough to 1/4 inch between the two sheets of parchment.  This keeps it from sticking to your rolling pin.
Place rolled out dough into the fridge until well chilled. Around 30 minutes to an hour.
Use cookie cutters to cut our desired shapes. Re-roll the scraps and chill again before cutting more cookies. Time consuming part here, I know!
Bake cookies at 350 for about 9 minutes.
Cool completely before decorating.
If you want to make the royal icing to decorate:
In a bowl, combine the water and meringue powder. Use a whisk to mix until it is foamy. Add in the powdered sugar. Pipe or drizzle the icing onto cooled cookies! I thickened a small amount of the icing and used a decorating bag and tip to outline each cookie. I put the remaining icing in some cheap condiment bottles I found at Walmart. The kids did the "flood" icing for all of the cookies. They had a blast.
*I found this recipe in a Taste Of Home magazine from several years back. It's originally from Paula Deen. I just changed a few little things to suit me:)
Enjoy some pictures of my day making cookies with my kiddos!