My little boy turns three this weekend and wants a superhero party! So far I have made Spiderman cookies and his pinata. I am still working on superhero capes and will make the cake closer to the party. Thought I would share this super easy pinata with you!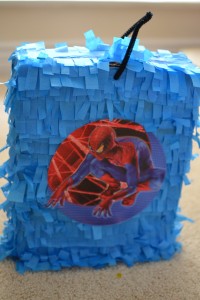 Here's how you too can make a pinata for less than 5 dollars in less than an hour!
1.  Find an old cardboard box, some tissue paper, a couple of glue sticks, a pipe cleaner, scissors, and tape.
2.  Cut two identical shapes out of the box….for this one I used a small diaper box. I just cut the two large rectangular sides off.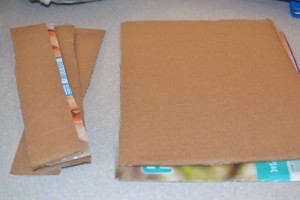 3. Cut 2-3 inch strips of cardboard to complete the box.
4.  Tape the entire box together with scotch tape or masking tape. Leave an opening at the top to allow you to put candy or treasures inside. It kinda looks like a cereal box:)
5.  Cut your tissue paper into three inch strips and cut slits in each strip to make the fringe. Use a glue stick to adhere the tissue paper to the box.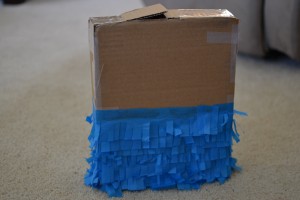 6.  Cover the entire box and then add a decoration to the front.
7. Don't forget to use the pipe cleaner as a hanger before you close up the pinata.  I add the hanger, fill with candy, and then glue tissue paper on the top!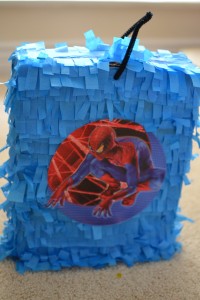 *Feel free to ask me any questions you might have and share your pinata pics. I have a few posts about making pinatas that are a bit more detailed so click here or here!