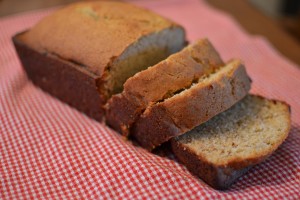 Ever wondered what to do with those brown bananas that are a tad too mushy to eat? Make banana bread….my daughter says brown bananas simply make the best bread!  I will go ahead and let you know this is not a healthy version of banana bread, but it is delicious!  Make it if you dare!
Cream  together:
½ cup  Crisco
1   cup  Sugar
Mix in 2 eggs (1 egg   at a time)
Mix   together:
2     cups  Flour
½   tsp baking soda
½   tsp salt
Add flour mixture to cream mixture
Beat   in:
           ½ cup nuts (pecans or walnuts)…optional, I leave these out:)
           1 cup crushed bananas (I just throw in three whole bananas)
Bake at 325 for 1 hour
*This recipe was sent to me from my sister. Her friend, Peggy, sent it to her and said it was her grandmother's special recipe!
AND here's another favorite banana bread recipe from my sister!
Ingredients:
1/2  cup (1stick) butter, at room temp.
1 cup sugar
1/2 tsp salt
2 eggs
1 tsp vanilla
1 1/2 cups all-purpose flour; sifted
1 tsp baking soda
1 tsp baking powder
3 ripe bananas, mashed
Directions:
Preheat oven to 350 degrees. Grease a 9 X 5 inch loaf pan. In a mixing bowl (I just mix by hand), combine butter and sugar; mix well. Add the salt, eggs, vanilla, flour, baking soda, baking powder, and bananas, and mix well. Pour the batter into the prepared pan and bake for 50 minutes.
** I have started adding about a cup of chocolate chips.  I don't measure, just dump them in until I am happy with the amount.
My favorite tip that someone shared with me that if you have butter or cream cheese that needs to be softened to room temp, put stick in the microwave for 5 seconds, rotate, 5 more seconds, rotate, 5 more seconds, rotate….continue until softened.  Works so well and doesn't melt!!!
Thanks, Laurie, for sharing with us today!