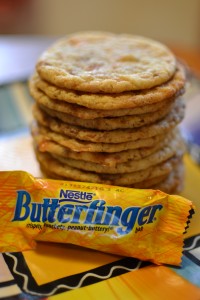 This summer our community group (family Bible study group) made cookies for our local fire departments as a small token of our appreciation for their service to our community. My friend Val made some really yummy Butterfinger cookies that my husband loved.  So I ended up making a couple of batches of these cookies just for him.  I made them again today and thought I would share with you!
Ingredients: (makes around 4 dozen good sized cookies)
3 and 1/2 cups flour
1 teaspoon baking soda
1 teaspoon baking powder
1/2 teaspoon salt
1.5 cups sugar
2 sticks of butter (1 cup), softened
2 large eggs
16-20 fun sized Butterfinger candy bars, chopped
Directions:
Combine flour, baking soda, and salt in a medium sized bowl. Set aside.

Cream butter and sugar in your mixing bowl for about five minutes until it is light and fluffy.

Add eggs one at a time, beating well after each egg.
Slowly add in the flour mixture.
Fold Butterfinger pieces in by hand.
Drop dough by spoonful onto cookie sheet.
Bake in a preheated oven at 375 for 10-12 minutes. Watch closely as they brown quickly after that 10 minute mark.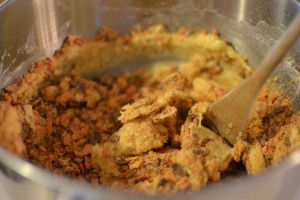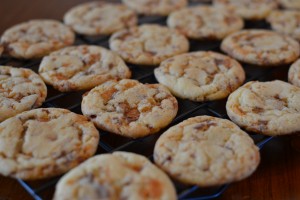 Original recipe adapted  from Sally's Baking Addiction.