To make your own beag bag toss game: 
You will need a thick piece of poster board, exacto blade, colors, cardboard, tape, and bean bags.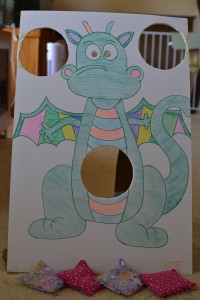 First you will need to draw your chosen design and color it. Next choose three or four places to draw circles. Be careful not to get your circles too close to the edges like I did. Use the exacto blade to cut out the circles.  My sweet husband used some scrap cardboard to make the board stand up. I can't really explain what he did, so here are a few pictures!
And have your best friend make you some cute bean bags to match your party theme! Check out Lisa's blog…she made our bean bags!