One of the things I miss most about teaching….decorating my classroom! I was so excited to visit my mom's classroom last week and see all her cute monkey decorations. I had so much fun playing on her Smartboard and showing her a few tricks too! My oldest daughter starts Kindergarten this year, and I plan to help her teacher as much as possible. Her teacher has chosen a Chicka-Chicka Boom Boom theme this year. SO what goes better than a few palm trees???  Her sweet teacher sent me a link to a palm tree made out of a pool noodle, and I got started making a couple palm trees for her classroom!  Really an easy project that was super fun! Here's how to create your own palm trees…..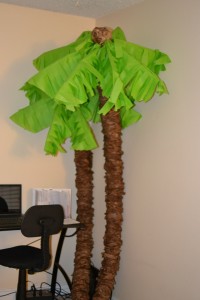 You will need:
pool noodles
brown paper lunch sacks (about 100)
brown spray paint
green tissue paper
16 gauge floral wire (I bought a package of long wires that had already been cut.)
hot glue
duct tape
Directions:
First I cut a pool noodle in half with scissors. I used duct tape to tape half of the noodle to another whole noodle.
Cut the bottoms off of the paper bags.
Slide the paper bags onto the pool noodle and scrunch together. Use tape to secure the bag on the bottom and top.
Spray paint the palm trunks brown.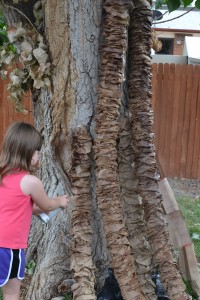 To make the palm fronds, take one piece of tissue paper and lay it flat. Run a line of glue down the center of the paper. Place the piece of floral wire onto the glue line.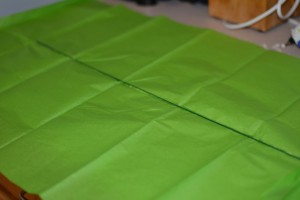 Now run another line of glue on top of the wire and place another sheet of tissue paper on top.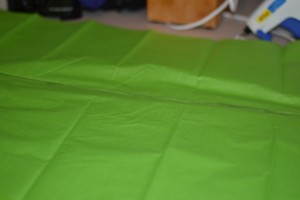 Now fold the tissue paper in half lengthwise. Cut the edge in a circle shape as shown below.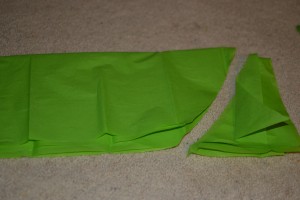 Cut about one inch strips almost to the center wire.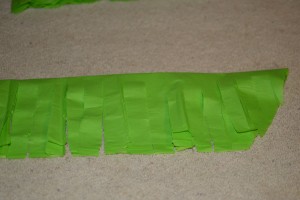 To put the palm fronds onto the trunk, you just poke the wire into the pool noodle.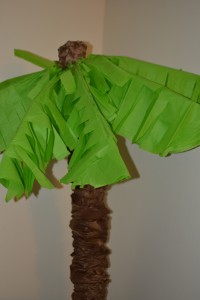 And now you have a cute palm tree decoration. The palm will not stand on its own, so you will probably have to hang it from the ceiling with fishing line!
*Click here for the original source for this idea!