My daughter requested chocolate chip cookie ice cream sandwiches for her birthday today! Thought I would share one of my favorite chocolate chip cookie recipes with you!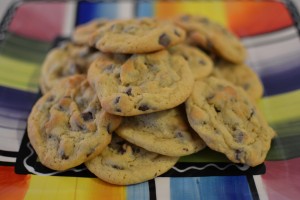 Ingredients:
2 sticks of salted butter (1 cup)
3/4 cup brown sugar (packed)
1/4 cup white granulated sugar
1 small box of instant vanilla pudding
2 eggs
1 teaspoon vanilla extract
2 and 1/4 cup all purpose flour
1 teaspoon of baking soda
1/8 teaspoon of salt
1 package of milk chocolate chips (12 oz)
Directions:
1.  Cream butter, sugars, pudding mix, eggs, and vanilla.
2.  Slowly mix in flour, baking soda, and salt.
3. Fold in chocolate chips.
4. Preheat oven to 375.
5. Drop rounded spoonfuls of cookie dough onto parchment paper.
6. Bake for 8 to 9 minutes.
7. Cool on wire wrack!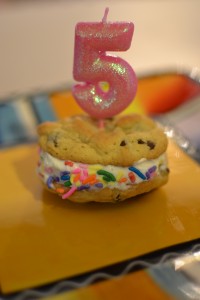 Recipe adapted from here!