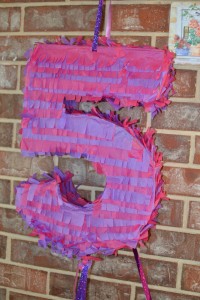 For our daughter's fifth party,  we made a number 5 piñata. I have made a few piñatas and depending on the tape you use they can be pretty hard to break open. So I did some research on how to make a pull string piñata instead of making one you have to break open with a bat/stick.  Here's what I did: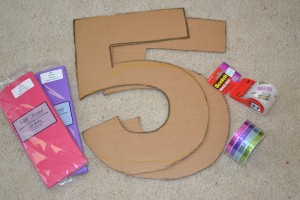 You will need a cardboard box, a cereal box (not pictured here), tape, tissue paper, ribbon, and a glue stick (not shown either).
Make two identical shapes using the cardboard box. In this case, I made a number 5.  Cut the cereal box into strips measuring the same width.  I made two inch strips. Tape the strips between the two number fives to form an enclosed "box".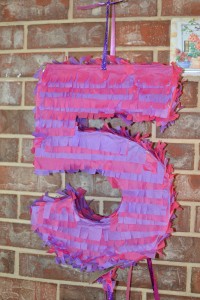 Cut the tissue paper into two inch strips and make slits in the paper almost to the top. Use the glue stick to lay the strips on the piñata. Repeat until the entire piñata is covered.  With the number 5 shape this took quite a while. I did the outside edges and then did the front and back.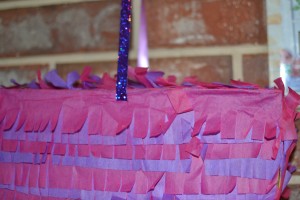 To hang the piñata, I used a piece of ribbon. I cut a slit in the front and back and slid the ribbon thru.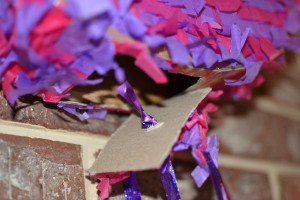 To make the trap door, I used an exacto blade to cut a small square with one side still attached. Cut a slit in the middle of the door, and thread a piece a string through.  Tie a knot so the string will hold and pull the door open when pulled by a kid.  Place other ribbons around the bottom on piñata in places that would not make the door pull open.
Hope you enjoy making a piñata!
*If you want more detailed instructions on making the piñata, check out this previous post on my site!