I never knew how easy making your own pizza dough really was until about 6 months ago….I will never go back to buying premade pizzas! Here is a recipe from Lauren's Latest that is easy to make and makes great pizza dough!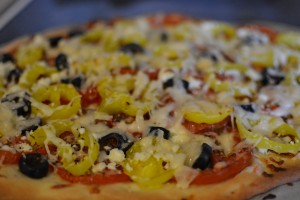 1. In your mixer bowl, combine one cup of warm water and 1 Tablespoon of honey. Sprinkle 2 and 1/4 teaspoons of yeast on the top. Let the yeast do their magic for about 5 to 10 minutes until the mixture looks bubbly!
2.  Add two teaspoons of kosher salt, 2 Tablespoons of olive oil, and 2 cups of bread flour. Use the dough hook to combine. Add in one more cup of bread flour. The dough should start to pull away from the sides of the bowl.
3. Let the mixer knead the dough for 6 minutes and it should look like this. Not sticky!
4.  Place the dough back into the bowl and lightly grease with one Tablespoon of vegetable oil. Cover with saran wrap and place in a warm spot to rise. Should take about 30 minutes depending on the warmth of your house. You want the dough to double in size.
5. Roll out your dough, prebake at 500 for 4 minutes or until light golden in color, top with your favorite toppings, and then bake for an additional 5 to 8 minutes until cheese is nice and melted.
*This recipe makes enough for three small pizzas or two medium pizzas.