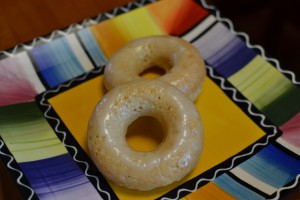 Look yummy?  It was an early morning around here, so the kids and I set out to make some donuts. It's actually very easy and kid friendly!
Ingredients:
1 cup all-purpose flour
6 tablespoons white sugar
1 teaspoon baking  powder
1/4 teaspoon cinnamon
6 tablespoons buttermilk
1 egg
1/2  teaspoon vanilla extract
1 tablespoon butter, melted
For the glaze:
1/2 cup (or more) powdered sugar, depending on the consistency you'd like
1/2 teaspoon vanilla extract
1-2 teaspoons whipping cream
Directions:
Preheat the oven to 325 and lightly grease a donut  pan.
Mix together the flour, sugar, baking powder, and cinnamon in a bowl.
In a small bowl, combine the buttermilk, egg, and butter, whisking to  combine.
Add the wet to the dry ingredients and mix well with a wooden  spoon. The batter will be thick.
Scoop batter into a large Ziploc bag. Snip end of bag and pipe into donut pan.
Bake for 8 to 10 minutes.
To make the glaze: Whisk together the powdered sugar, vanilla, and cream until  smooth. Add more liquid or powdered sugar as needed to get the consistency you  prefer.
Allow donuts to cool on wire cooling rack until cool enough to dip into the icing.
Place dipped donuts back onto rack to allow the excess icing to drip off.
Decorate with sprinkles if you dare!
*Original recipe from Buns In My Oven