Not too long ago, I found a blog that I could spend hours browsing recipes and looking at pictures on!  It's called "Buns in the Oven & Not the Baby Kind". I have made four different cookies from the site and each turned out so well!  Today my husband requested these peanut butter cookies with Reeses pieces and chocolate chips…to which I am happy to make:)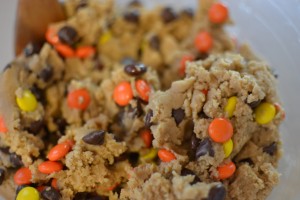 Ingredients:
1/2 cup butter, softened
1/2 cup peanut butter
3/4 cup brown  sugar
1/4 cup white sugar
1 egg
1 teaspoon vanilla
1 3/4 cups  flour
1 teaspoon baking soda
1/2 teaspoon salt
1 cup Reese's  Pieces
1 cup milk chocolate chips
Directions:
In the bowl of a stand mixer, cream together the butter, peanut butter, and  sugars until light and fluffy.
Beat in the egg and vanilla.
In a  medium bowl, combine the flour, baking soda, and salt.
Gradually add the flour mixture into the creamed mixture and beat until well combined.
Fold in the Reese's Pieces and  chocolate chips.
Chill the dough for at least 30 minutes.
Preheat oven  to 350 degrees and line a cookie sheet with parchment paper.
Make small balls of dough and place onto baking sheet 2 inches apart and bake for 8 minutes.
Let the cookies set on the baking sheet for 5 minutes to set up before  transferring to a wire cooling rack.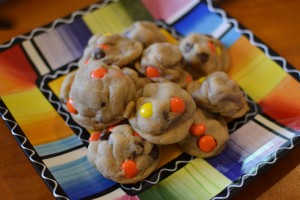 *These are super thick cookies. SO GOOD!
*Makes about 3 dozen