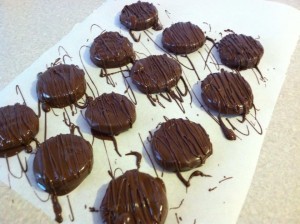 I love peppermint patties…but not the store bought kind with a ton of random additives. This is a super easy recipe and is AMAZING!  My only problem is not eating the entire batch in one sitting;)
Ingredients:
2 1/2 cups powdered sugar, divided
1 1/2 Tablespoons light corn syrup
1 1/2 Tablespoons water
1/2 teaspoon pure peppermint extract (can use up to 1 teaspoon to increase minty flavor)
1  Tablespoon vegetable shortening
1/2 Tablespoon butter
Baker's Real Milk Chocolate Dipping Chocolate, 7 oz container
 Directions:
Beat 2 1/4 cups powdered sugar with corn syrup, water, peppermint extract, shortening, butter and a pinch of salt using an electric mixer at medium speed until just combined.
Knead on a work surface dusted with remaining 1/4 cup confectioners sugar until smooth.
Roll out and cut into circles with a small biscuit cutter.
Place circles onto a cookie sheet and freeze for 30 minutes.
Melt dipping chocolate and dip frozen patties!
You can place the peppermint patties into the fridge to set the chocolate faster or leave on countertop.
I store mine in a sealed container in the fridge.
*For a fun variation, you can tint the dough different colors! I once made orange and blue peppermint patties before a Gator football game.  Think of all the fun you can have:)
*Original recipe can be found here!