SO I love cool whip as much as the next person, but I love being able to make it at home even more!! It wasn't long ago that I realized it's super easy to make and tastes so much better. Just in case any of you are interested, I thought I would share with you how to make your own whipped cream!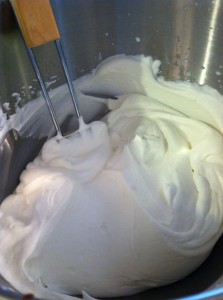 Ingredients:
1 cup of heavy whipping cream
2 teaspoons of pure vanilla extract
1 cup of powdered sugar
Directions:
Put your mixing bowl into the freezer for about 10 minutes. If you are in a hurry, you can skip this step but having the bowl cold does help the cream "whip" up faster.

Pour the heavy cream into the bowl and mix on medium-high until soft peak forms.
Add in the vanilla and powdered sugar (You can use a half cup of powdered sugar if you prefer a little less sweet whipped cream)
Beat until well combined.
Watch closely so as to not overbeat or you will change the creamy texture!
Serve and enjoy!