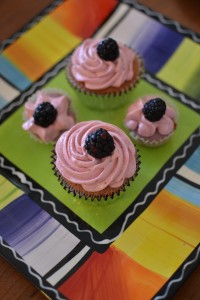 My nephew requested blackberry cupcakes for his ninth birthday, so my sister found a recipe and made his cupcakes! They loved them so much that I decided to give them a try too.  I learned something though…..I only like blackberries covered in sugar. While these cupcakes, have their fair share of sugar….they are not my favorite. My husband loved them, my kids ate them, and I took them to a dinner with friends and they were well received.  So to each his own I suppose:) Give it a try if you like blackberries and are looking for a fun summer treat!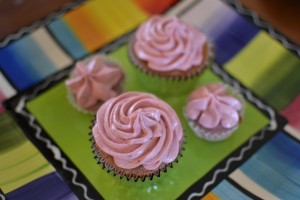 Ingredients for the cupcakes:
18 oz blackberries – pureed and strained to remove seeds (This made about a cup of juice for me)
1/3 cup milk
6 large egg whites
2 tsp lemon juice
2 1/4 cup cake flour
1 3/4 cup sugar
4 tsp baking powder
1 tsp salt
1.5 sticks of butter, softened

Directions:
Beat the egg whites, lemon juice, and 3/4 cup sugar in a bowl until soft peaks. Then separately beat the butter with the remaining 1 cup sugar, and add in the rest of the ingredients, beating well. Remove 1/4 cup of blackberry puree for the frosting and pour the rest into the bowl. At the end, fold in the egg whites mixture.  Bake at 350 degrees for about 18 minutes, or till a toothpick comes out with crumbs, not wet batter attached.


For the Blackberry Frosting:
2 sticks of unsalted butter, room temperature
1/2 tsp vanilla ext
1/4 tsp almond ext
2 cup of powdered sugar (this can vary according to sweetness)
1/4 cup blackberry puree

Directions:
Cream the butter and slowly add in the rest of the ingredients. You can adjust the consistency by adding milk (to thin it) or sugar (to thicken). I ended up using close to 3 cups of powdered sugar to get the icing to a piping consistency. Just as an FYI, it was way too sweet. Next time I think I will stick to original measurements and chill icing in fridge to make it stiffer.


*This recipe made 24 cupcakes and about 16 mini cupcakes. So be ready to share.
*These cupcakes do not keep well. Best eaten the day they are made.
*Original recipe can be found here.