My husband graduated from UF and loves his Gators! Last year for our anniversary, I saw a picture of the cutest Gator cake made out of cupcakes.  I never found directions, but was able to duplicate it pretty well by looking at the picture.  It's getting close to our 9th anniversary….wonder what I can create?!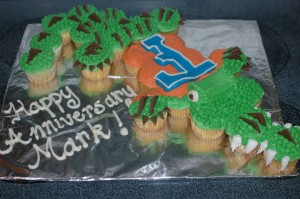 To make this cake, I used 24 vanilla cupcakes and buttercream icing, tinted green, orange, blue, and white.
First, place the cupcakes on your tray in the shape of the gator. Here's the count starting at the mouth: 1,1,3,4,2,2,4,2,1,1,1,1.
Next, smooth green icing on the "body" cupcakes and orange on the mid section for the shirt.
On the green cucpakes, I used a small round tip to pipe little dots to look like scales…another option here would be to use little mini green M&Ms.  I didn't have the patience to dig green M&Ms out of the bag:)
Use your blue icing to make a Florida F and outline in white for contrast.
I used Hershey's chocolate bars for the claws and accents.
To create the eyes, I used two marshmallows, covered in green icing. Use a small piece of marshmallow on each side to create the eyeball and add a chocolate chip for the pupil.
For the teeth I used cut marshmallows.
*I love the way this turned out….football season is almost here so I might just make this one again!
UPDATE: Just made this Gator cake again. I took pictures along the way to show exactly how I made it! Hope this helps you create your own Gator soon:)