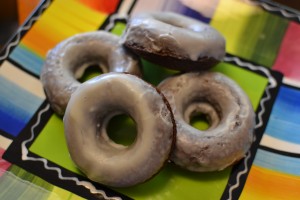 I saw a recipe for chocolate glazed cake donuts and couldn't wait to try it. I ordered a donut pan and as soon as it arrived, I whipped up a batch of these delicious donuts!   My sister just ordered a donut pan, and her question to me was: "Can I make donuts like you?"  Of course she can and you can too. I'll guide you through this easy recipe step by step!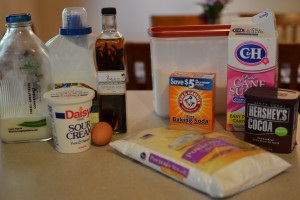 Gather all your ingredients!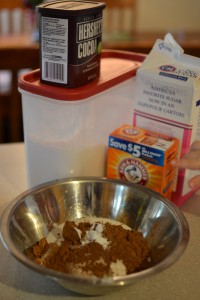 Combine all your dry ingredients into a bowl!
Combine your wet ingredients into another bowl. Find a cute little helper or two to stir for you!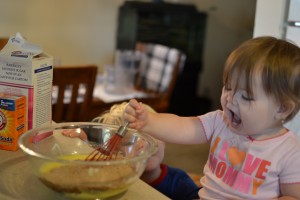 Combine wet and dry ingredients and mix well!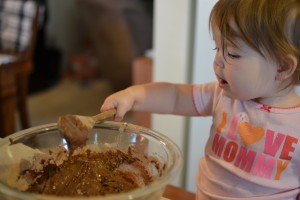 Is the batter ready yet, mom?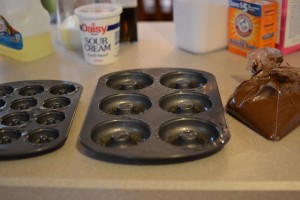 Grease your donut pan(s) and put your batter into a large Ziploc bag.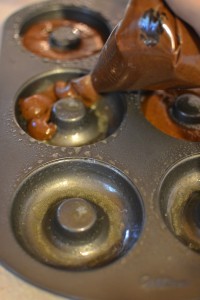 Snip off end of bag and pipe batter into the donut wells.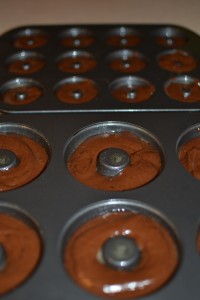 These are ready to bake at 375.  The mini donuts take around 8 minutes, while the regular donuts take about 10.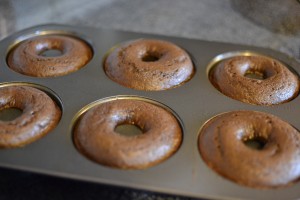 All baked up and ready to be cooled onto a wire rack!
Cooling down the donuts, so let's make icing!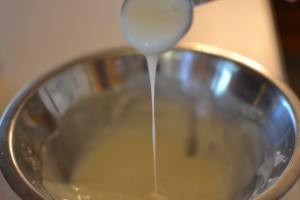 Icing made and ready to be used!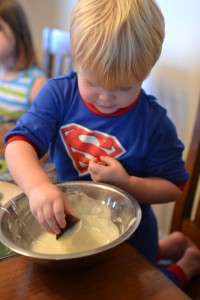 Gather your little helpers and let them dip away!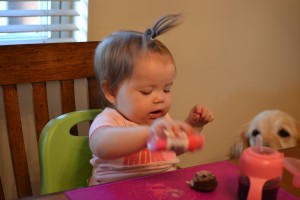 Sprinkles are a fun addition….look even the dog wants in on the fun!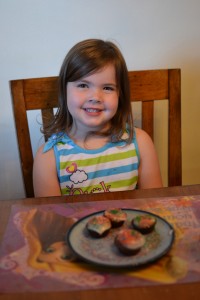 Her finished donuts!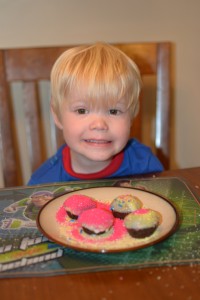 His finished donuts!
What a fun morning in the kitchen!
Ingredients:
For the donuts:
1 cup flour
1/2 cup sugar
1/4  cup cocoa powder
1/2 teaspoon  baking soda
1/2 teaspoon vanilla extract
1 egg
6 tablespoons sour  cream
1/4 cup milk
1/4 cup vegetable oil
For the  glaze:
1 cup powdered sugar
5-6 Tablespoons of heavy whipping cream (whole milk can also be used)
Directions:
To make the donuts:
Preheat oven to 375 degrees.
In  a medium mixing bowl, combine the flour, sugar, cocoa powder, and baking soda.
In a small bowl, beat together the vanilla, egg, sour  cream, milk, and oil.
Stir the wet ingredients into the dry until just  combined.
Put batter into a large Ziploc bag and snip end off.
Pipe in a greased donut pan.
Bake for 8 to 10 minutes or until the tops spring back  when you touch them. Let the donuts cool on a wire rack before glazing.
To make the glaze:
Combine powdered sugar and vanilla in a bowl.  Add a tablespoon of whipping cream at a time until you reach desired consistency. Adding more cream will thin out your icing, so you can dip the donuts!
Click here for original recipe and instructions!