Chocolate Chips and cinnamon rolls combined plus icing….yes, please!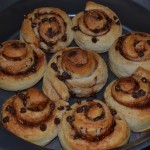 Ingredients
For the rolls:
1 can Crescent Rounds Dough
2 tablespoons butter, melted
¼ cup sugar
½ tablespoon cinnamon
½ cup mini chocolate chips
For the Vanilla Icing
1 Tablespoon of melted butter
2 teaspoons pure vanilla extract
1 cup powdered sugar
4-6 Tablespoons of heavy whipping cream or whole milk
Instructions
Preheat oven to 375.
Lightly grease an 8-inch cake pan with non-stick spray; set aside.
Separate dough into 8 rolls and unroll.
Brush each piece of dough with melted butter.
In a small bowl, mix together cinnamon and sugar.
Evenly divide and sprinkle a generous amount of cinnamon-sugar over each roll.
Evenly divide chocolate chips and spread over cinnamon-sugar.
Carefully roll up each dough, pinching seams together.
Arrange the rolls 1 inch apart in the prepared cake pan.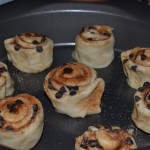 Bake for 15 to 17 minutes, or until tops are golden brown.
While rolls are cooking, make the icing.
Melt the Tablespoon of butter in the microwave.
In you mixing bowl, mix together the butter, vanilla, and powdered sugar.
Add in the whipping cream (or milk), little by little until you reach desired consistency.  I like a thick, spreadable icing, so I tend to use closer to 4 Tablespoons of the cream.  The more cream you add, the thinner icing you will have. If you get it too thin, add more powdered sugar.
The nice thing about icing is that it is very forgiving. You can add a little of this or a little of that and make a super yummy icing!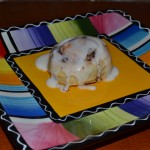 *Original Cinnamon Roll recipe can be found here.