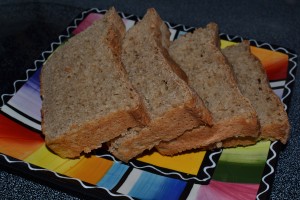 Bread, bread, and more bread….I love making bread!  Found this recipe and gave it a try! Pretty easy to make, and you can't beat the taste! Give it a try!!
Honey Wheat Bread
1 cup warm water
2 teaspoons active dry yeast
3 tablespoons honey
3 tablespoons vegetable oil
1 1/2 cups whole wheat flour
1/2 tsp kosher salt
2 cups all purpose flour
Directions:
Sprinkle yeast on top of the warm water and then stir in the honey. Let sit until bubbly (about 5 minutes).
Using the dough hook on your stand mixer, stir in the whole wheat flour, vegetable oil and salt.
Slowly add in half of the all purpose flour. Knead the dough for a few minutes adding more flour as needed until it all comes together. You may not need to use the entire two cups of all purpose flour.  (I used 1.5 cups of all purpose flour.)
The dough should form a ball and be slightly sticky to the touch.
Place dough in a greased bowl, cover with saran wrap, and allow to rise until doubled, about 60 minutes. *Because I am lazy, I use the same bowl for making and rising. When I finish kneading the dough, I use about a Tablespoon of vegetable oil to lightly grease the dough and bowl.
For a quicker rise, turn your oven to 200 and let it preheat. Turn off oven and place your bowl into the oven.  This should make the dough rise faster so check on it after 30 minutes.
Punch down dough. Roll dough into a rectangle about the size of your loaf pan.  Roll into a log to form a loaf.
Place in well greased  loaf pan(seam side down) and allow to rise until the dough is about 1 inch above the pan, about 60 minutes.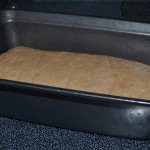 Bake at 375 degrees for 25-30 minutes.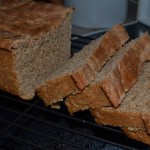 *Adapted from Buns In My Oven!