Who doesn't love going to the local ice cream shop and buying a chocolate dipped ice cream cone?  Well, I love all things sweet so a visit to the ice cream shop for me is the best!  Since it's a rainy day, I decided we should make our own dipped cones!  Super easy and a perfect afternoon project for the kiddos!
Grab some ice cream cones, sprinkles, and chocolate.  Melt chocolate in small containers.  Find a set of small kiddo hands to come have some fun dipping and sprinkling cones!
My oldest LOVED dipping the cones and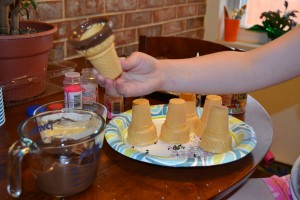 covering the cones in sprinkles.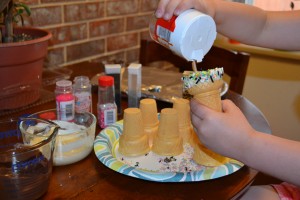 Here are the final cones. Created just by her:)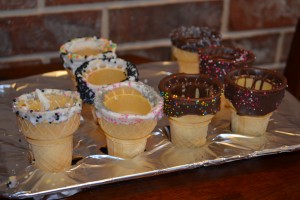 Now to go fill these with some yummy ice cream! Afternoon delight:)
*Just as a side note, I used my mini muffin tin covered in foil to hold the cones while they were drying!