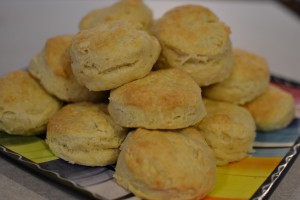 I enjoy making breakfast for dinner from time to time. Nothing beats a fluffy, homemade buttermilk biscuit. I have experimented with several recipes but prefer The Pioneer Woman's recipe over all others! One thing I don't like is the time it takes to cut the butter and shortening into the flour….so in comes the food processor! These biscuits take under 20 minutes to make!
Ingredients:
4 cups of all purpose flour
1 and 1/2 teaspoons of salt
2 and 1/2 teaspoons of baking soda
1 and 1/2 teaspoons of baking powder
1/3 cup of shortening
1/3 cup of cold butter (5 and 1/3 Tablespoons), cut into pieces
1 and 1/4 cup of buttermilk (I prefer using Meadow Gold Extra Rich Buttermilk as it provides full flavor!)
Directions:
Combine flour, salt, baking soda, and baking powder in your food processor.

Add in the shortening and pieces of butter. Pulse until combined and the mixture resembles a sand like consistency.
Remove the mixture and put into a large bowl.
Pour in the buttermilk and gently combine using a wooden spoon. Don't overmix as the texture is affected if you do.
Put dough onto a sheet of parchment paper and roll out about an inch thick.
Use a medium biscuit cutter and cut out biscuits.
I take the extra dough and lightly roll it out again to get more biscuits. Some say you shouldn't do this as it supposedly makes the last set of biscuits tougher. I haven't found that to be true with this recipe.
Bake at 450 for 11 to 14 minutes.
*Makes about 18 biscuits.
*Can make dough ahead of time, cut biscuits, place onto a plate covered with parchment paper, and store in fridge until ready to cook.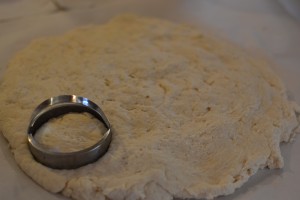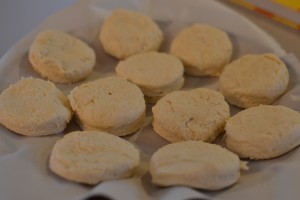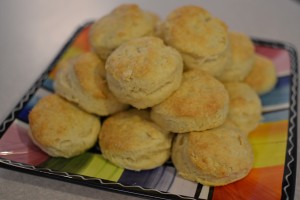 Pioneer Woman's Buttermilk Biscuits