SO with two kiddos in diapers, I started making my own baby wipes about a year ago! Thankfully I only have one  in diapers today, but I still enjoy making my own baby wipes.  EC is almost a year old, and I can count on one hand how many diaper rashes she has had.  I truly believe that is due to making my own wipes!  Here's how: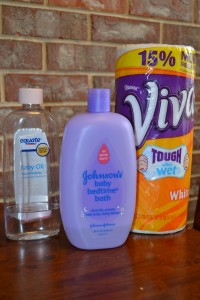 You will need:
one roll of Kleenex Viva paper towels
baby soap
baby oil
small container with lid (mine is a 7 cup Rubbermaid container)
water
DIRECTIONS:
Boil a little more than 3 cups of water and then let cool.
Cut the paper towel roll in half using a sharp, non serrated knife. Save one half for later!
Pour 3 cups of cooled water in a bowl. Mix in 2 T of baby oil and 3 T baby soap.
Pour half of the water solution into your container and place one half of the paper towel roll into container (cut side down). Pour remaining water solution on top of the roll. Let sit for just a minute.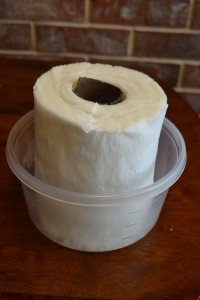 5.  Pull out the cardboard center as shown below.
6.  Use the container lid to smash down the paper towels so you are able to seal the container closed.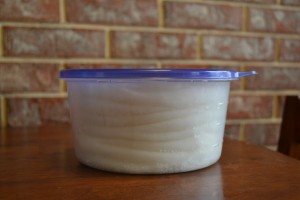 7.  Turn container upside and let sit for a while (maybe 30 minutes). Just to make sure the water solution is completely absorbed.
8.  Open container and pull wipes from center!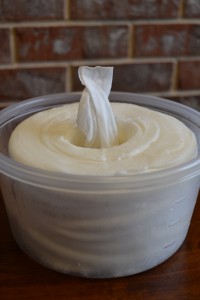 AND there you have it…your own homemade baby wipes! No unknown preservatives or ingredients you wouldn't want on your baby's precious skin.  I hope you take the time to try this out. It really works!