I was in charge of snacks for our Bible study group last night.  SO many options and recipes, but I chose this one….
PIZZA BITES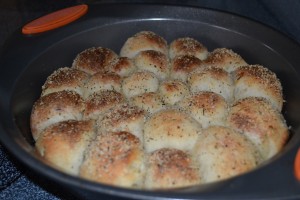 Pizza dough (Store bought or homemade)
Cheese ( I prefer freshly grated Parmesan and mozzarella.)
Pizza toppings of your choice (pepperoni, sausage, etc)
Garlic powder, Italian seasoning, and grated Parmesan
Pizza sauce
Directions:  Roll out pizza dough into a large rectangle and cut into 24 squares.  Put a small amount of cheese and pizza topping on each square.  I made some with only cheese and the others had pepperoni!  Here are the pepperoni bites!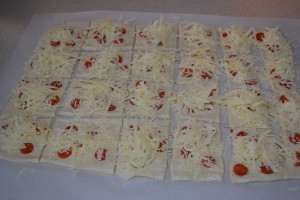 Take each square and fold up the sides to make a ball. Pinch the dough together to seal the ball closed.  Place ball into a greased pie pan or similar shaped pan.  Repeat until all balls are done. All 24 will fit tightly into the pan. In a small bowl, mix together a tablespoon of Parmesan, 1 teaspoon Italian seasoning, and 1/2 teaspoon garlic powder.   Brush the tops with olive oil and sprinkle with the seasoning mixture.  Bake at 400 for about 20 minutes or until browned.  Serve with a bowl of hot pizza sauce!