I decided to use my cast iron skillet to bake some buttermilk biscuits the other day….and they were so good I thought I would share!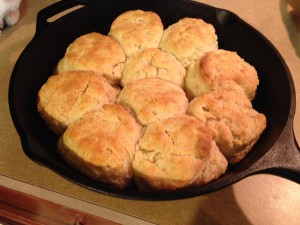 Ingredients
2 cups all-purpose flour
1 teaspoon sugar
1 tablespoon baking powder
1 teaspoon salt
8 tablespoons butter, cubed
3/4 cup buttermilk, (more or less if needed)
plus 2 extra Tablespoons of butter for the skillet
Directions:
Pour the flour, sugar, baking powder, and salt into your food processor. Pulse just a bit to mix it all together.
Throw in the butter and pulse until the butter is mixed into little crumbs.
Remove mixture from the food processor and put into a bowl.
Use a wooden spoon to mix in the buttermilk.
Dump the mixture out onto a silpat or parchment paper or a nonstick surface.
Use a biscuit cutter or a cup to cut out the biscuits.
Put the 2 extra Tablespoons of butter into your cast iron skillet.
Now take the skillet and place into your oven while it's preheating to 425 degrees.
Once the butter is melted, pull the skillet out and arrange the biscuits into the pan.
Bake the biscuits in the skillet for 15-30 minutes. The original recipe said to bake for 12 minutes but mine were way underdone at that point. It took them closer to the full 30 minutes to brown nicely.  Just keep an eye on them!
*This recipe is from Paula Deen with a few changes made!