About this time last year I made cookies decorated with royal icing for the first time. I set out to make cookie bouquets for teacher appreciation and since they turned out well last year I made them again this year.  I thought I would share my fave way to make cookies using royal icing to decorate and a few things I have learned in this last year.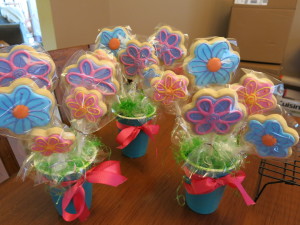 Let's start with my favorite almond sugar cookie:
Ingredients for the cookies:
1 cup of unsalted butter
1 cup of granulated sugar
2 eggs
2 teaspoons of vanilla
1 teaspoon of almond extract
3 and 1/4 cups of all purpose flour
1/2 teaspoon of salt
Directions:
Using your mixer, cream butter and sugar until light and fluffy.
Beat in eggs, vanilla, and almond extract.
Combine flour and salt in a separate bowl.
Slowly add the flour mixture in until completely combined.
Dough will be sticky.
Divide the dough into half and place each piece onto a sheet of parchment paper.
Lay another piece of parchment paper on top of each piece of dough.
Use your rolling pin to roll out the dough to 1/2 inch between the two sheets of parchment.  This keeps it from sticking to your rolling pin.
Place rolled out dough into the fridge until well chilled. Around 30 minutes to an hour.
Use cookie cutters to cut our desired shapes. Re-roll the scraps and chill again before cutting more cookies. Time consuming part here, I know! But the dough cuts much easier when it is cold.
If you want to make the bouquets, you will need to insert a cookie stick into each cut cookie before baking.
Bake cookies at 350 for about 9-11 minutes. Look for the center of the cookie to look baked…don't wait for the edges to brown.
Let the cookies cool on the cookie sheet for five minutes before moving to a cooling rack.
Cool completely before decorating.
And onto the royal icing:
I use a recipe from The Adventures of Sweet Sugarbelle.  She has so much information on cookie decorating and such.  Click here for her royal icing recipe.
1. I follow the recipe exactly as she has it but I do add 2 teaspoons of almond extract and one teaspoon of vanilla extract.
2.  I add the water the recipe calls for initially but wait to add any more until I have mixed the colors.  To make the colors, I divide the royal into small bowls and use gel food coloring to tint to the desired color. I then add water a tiny bit at a time until I get the right flooding consistency.  I like my icing to be stiff enough to stay on the cookie yet not so stiff that it doesn't flood the cookie easily.  For me this is the hardest part of using royal.  You just have to play with consistency.  TIP: To thin add water. To thicken add powdered sugar.
3. I use cake decorating bags with decorating tips to create all of my cookies.
4.  I use one consistency of icing for all of the decorating. I outline the cookie and immediately flood it (fill in) so the outline never shows.
**To make the bouquets:
1.  I used a solo cup with some rock pebbles in the bottom to add a little weight.
2.  I then used a piece of green foam (found with the artificial flowers at walmart) cut to fit inside the cup.
3.  I used hot glue to adhere some Easter egg grass onto the top of the foam.
4.  I arranged the cookies in the cup just as you would a floral arrangement.
Hope this helps you make some wonderful cookies very soon!