I love making things to fill our sensory table.  Today we decided to try coloring rice, and I am happy to share my kids are having a blast! It was easy to make too! Not at all a new idea but I will share how I made ours!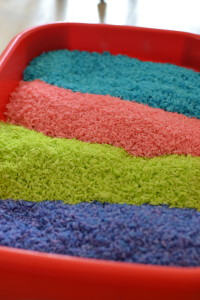 You will need:
Rice
Vinegar
Food coloring
*Optional: essential oils of your choice. I added a few drops of peppermint or lemon oil to each batch to help cut the vinegar smell.
Directions:
In a large ziploc bag combine two tablespoons of vinegar with several drops of food coloring until you get the desired color.
Add in two cups of dry rice and seal the bag.
Have your kids shake the bag until all of the rice is colored.
Lay out a piece of foil and pour the rice onto it.
Spread the rice around to make a thin layer and allow to dry for an hour or so.
Enjoy!