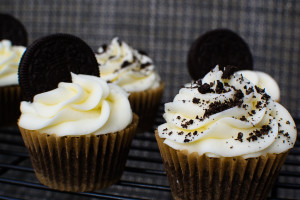 Sometimes it's just fun to see what I can make. I have never had much luck making a cake from scratch…..I usually start with a box mix and add to it.  However, I found this chocolate cupcake recipe from Sally's Baking Addiction. I have made several recipes from her site, and they are always perfect!  I used her exact cake recipe only I added an Oreo in the bottom and made my own cream cheese icing. These were fantastic so I thought I would share!
Ingredients:
Cupcakes
1/2 cup (42g) unsweetened cocoa powder (not Dutch processed)
3/4 cup (95g) all-purpose flour (spoon & leveled)
1/2 teaspoon baking soda
3/4 teaspoon baking powder
1/4 teaspoon salt
2 large eggs, at room temperature*
1/2 cup (100g) granulated sugar
1/2 cup (100g) light brown sugar
1/3 cup (80ml) vegetable oil (melted coconut oil works too)
2 teaspoons vanilla extract
1/2 cup (120ml) buttermilk*
*Eggs must be at room temp for the cupcakes to set up correctly and the buttermilk is a must to keep the cupcakes moist.
Frosting:
2 sticks (1 cup) of salted butter (softened)
1- 8 oz package of cream cheese (softened)
1- 2lb bag of powdered sugar (around 8 cups)
2 teaspoons of vanilla
4 Tablespoons of heavy whipping cream
Cupcake Directions: (makes around 20)
Preheat the oven to 350F degrees. Line 2 cupcake pans with liners and place an oreo in the bottom of each one.
In a large bowl, whisk the cocoa powder, flour, baking soda, baking powder, and salt together until thoroughly combined. Set aside.
In a medium bowl, whisk the eggs, sugar, brown sugar, oil, and vanilla together until completely smooth.
Pour half of the wet ingredients into the dry ingredients. Then half of the buttermilk. Gently stir – about 5 stirs. Repeat with the remaining wet ingredients and buttermilk. Stir until *just* combined; do not overmix. The batter won't be very thick.
Pour batter into the liners and fill about 2/3 full
Bake 18-19 minutes.
Let cupcakes cool while you make frosting.
Frosting Directions:
Mix the butter and cream cheese on med-high speed in your mixer until light and fluffy.
Mix in vanilla.
Add in half of the powdered sugar and mix.
Add in the whipping cream and the remaining powdered sugar.
If you need a thicker icing don't use all of the whipping cream.  To thin the icing you just add more whipping cream
I topped my cupcakes with lots of icing and sprinkled crumbled oreos on top of some and an entire oreo on others! Have fun and enjoy!