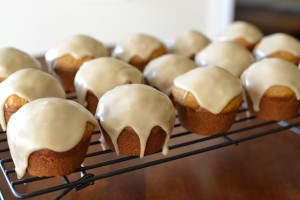 These pumpkin muffins were oh so very good. I am not a fan of pumpkin but the spice in these combined with the amazing icing…well it's a great combination! Enjoy!
Ingredients:
Pumpkin Muffins (makes 24)

3½ cups of flour
2 teaspoon baking soda
1 teaspoon baking powder
1 teaspoon cloves
1 teaspoon cinnamon
1 teaspoon nutmeg
½ teaspoon salt
1 can of pumpkin (2 cups)
1 cup of oil
2 cups of sugar
3 eggs
Maple Glaze
1/2 cup of butter (1 stick)
2 and 1/2 cups powdered sugar
1½ teaspoons of vanilla
1/2 teaspoon of  maple extract
3-4 Tablespoons of milk
Instructions:
Pumpkin Muffins
Mix dry ingredients and wet ingredients separately.
Add dry ingredients to pumpkin mixture.
Bake at 350 for 20-25 minutes.
Glaze and enjoy!
Maple Glaze
Melt butter in saucepan over medium heat.
Remove from heat.
Add sugar, vanilla, and maple extract.
Add milk until desired consistency is reached.
*Slightly adapted from PinchofYum. She also has a healthy version of this muffin, click here for that recipe!