Tortilla shells are something we keep on hand for the kids at all times. Well I was out last night and decided to try a recipe my mother in law recommended. I have tried making tortilla shells once before but the recipe was not good so I haven't wanted to attempt it again until last night when I needed some and didn't want to go to the store. This recipe was easy, quick, and delicious!  I would say it's a keeper:)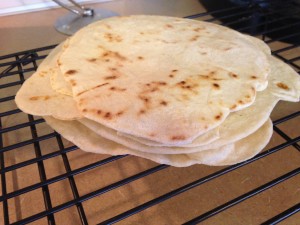 Ingredients:
3 cups of all purpose flour
1 teaspoon of salt
1 teaspoon of baking powder
1/3 cup of vegetable oil
1 cup of warm water
Directions:
1. Combine flour, salt, and baking powder in your mixing bowl.
2. Using the dough hook, add in the oil and water. Mix at low to medium speed until dough begins to clump and make a ball. Should only take a minute or two.
3. Take the dough out and transfer to a floured surface. Divide the dough into 16 equal pieces.
4. Cover with a towel and let rest for 15 minutes.
5. Flatten each dough ball into a small disc then use a rolling pin to make the tortillas thin. Getting a perfect circle was next to impossible for me but hey the taste makes up for that;)
6. Heat a griddle or skillet on medium-high heat.
7.  Place tortilla on griddle. Cook on the first side for about one minute. You will see it start to bubble up. Flip and cook on other side for 30 seconds. Repeat until all tortillas are cooked!
*My picky daugher says these are 100 times better than the store bought ones!
Recipe from here.