I am not a fan of beer…nothing about it do I like;) HOWEVER, use it in a loaf of  bread and I am sold!  I thought I would share the beer bread recipe I have been making for over a year now. Usually the crust isn't my favorite part of bread, but with all the butter involved this crust is hands down the best part!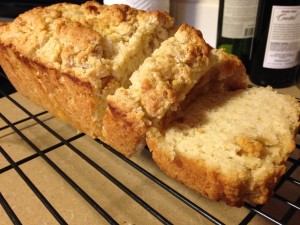 Ingredients:
3 cups of all purpose flour (I use better for bread flour), sifted
3 teaspoons of baking powder
1 teaspoon of salt
1/4 cup of sugar
1 (12 oz) bottle or can of beer (I use honey brown beer for the honey flavor)
1/2 cup of melted butter (can use 1/4 cup if you prefer)
Directions:
Preheat oven to 375.
Sift the flour.
Mix all of the dry ingredients together.
Pour in the beer and mix well.
Pour the batter into a greased loaf pan.
Melt the butter and then pour on top of the batter in the loaf pan.
Bake 50 minutes to 1 hour.
*I always put a cookie sheet under the loaf pan, just in case the butter spills over the sides while it cooks. I remove the cookie sheet halfway through cooking once I know the butter isn't going to spill. If the butter spills into the bottom of the oven, it creates a not so fun burning smell!
Hope you enjoy this easy beer bread recipe!