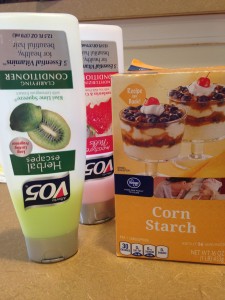 Turn hair conditioner and corn starch into playdough….but wait if messes aren't your thing, you might want to have Grandma do this one with your kids;)  For me I feel like mess=fun!  This dough is quite different from regular playdough.  It smells so good due to the conditioner.  It's kinda soft and silky but completely moldable!  So here's how to make this two ingredient playdough if you dare…
To make the playdough:
Mix two parts corn starch to one part conditioner. For example, I used two cups of cornstarch and one cup of conditioner. Mix well. Don't worry this will look like it will never mix in and make a dough but it will….just keep kneading it by hand if necessary. It is a little stickier at first but as you mix it gets better! Store in a sealed ziploc.
*This kept my kiddos busy for a solid hour and a half! Super fun and worth the mess!