I have found a new recipe for buttercream that I think is my new favorite!  So I thought I would share my favorite buttercream recipe with a twist…add caramel!  I love this caramel buttercream. It pairs quite well with yellow or white cake!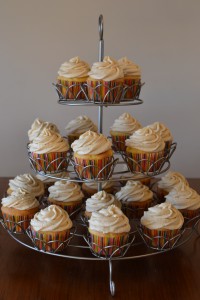 Make your favorite cupcakes!
Here's how to make the buttercream (to frost 24 cupcakes generously):
Take three sticks of unsalted butter and let soften to room temperature.
Measure out 4.5 cups of powdered sugar and place into your mixing bowl.
Add the butter to the powdered sugar and mix until fluffy…..takes a few minutes.
Add in 6 teaspoons of vanilla and mix.
Add in 4 Tablespoons of heavy whipping cream and mix again.
Pour a jar of caramel sauce into the icing and mix well.
Ice cupcakes as desired!
*If you want to make just regular buttercream just forget the step with adding caramel!