I love cooking a whole chicken in my crockpot! Super easy to throw it in and let it cook. AND as a bonus we always have leftover chicken to use in making another dish the next night!  So here's my new favorite way to cook a chicken!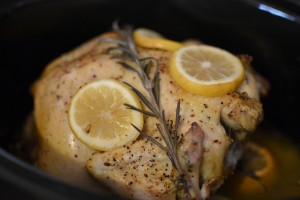 Ingredients:
4 lemons
2-3 heads of garlic
1 whole chicken 4 to 5 pounds
Fresh rosemary
All-purpose steak seasoning or salt and pepper
Instructions:
Cut garlic heads and lemons in half and lay in bottom of crockpot.
Cut the bottoms off the lemons so they lay flat.
Add a sprig of rosemary, or any herbs.
Remove insides from chicken, rinse chicken and pat dry.
Season chicken well, inside and out, with all-purpose steak seasoning or salt and pepper.
Lay chicken on top of garlic and lemon slices and stuff the chicken with a garlic head cut in half, and a lemon cut in quarters.
Cover top of chicken with additional lemon slices and rosemary.
Turn slow cooker to low, and cook for about 4 hours, or until chicken reaches 165 degrees.
*No need to add any liquid in during the cooking process. Just look at the picture above…all that juice is from the chicken cooking! This chicken is super moist!
Original recipe can be found here!