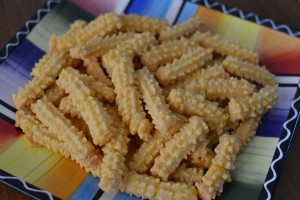 When I was a kid, we spent a week with my Grandparents each summer.  This week was such a special treat filled with fun. I remember the beach towels she had for each of us only to use when we were there.  We spent a ton of time sliding and diving at her country club pool.  She would always buy new toys for us to play with….we were never allowed to take them home so that the toys would always be at her house for us to play with! These cheese straws are made by my sweet Grandmother, and I assure you they are a treat too and were a part of this week each summer!  I always looked forward to going to visit my Grandparents and tasting the cheese straws.  Since I only make it over there once a year, I have had to learn to make my own cheese straws.  So here's to my amazing Grandmother and her cheese straws!
Ingredients:
8 oz block of extra sharp cheddar, finely grated
1 stick of unsalted butter (half cup), cut into pieces and at room temp
1/2 teaspoon of salt
1/4 teaspoon red pepper
1.5 cups of flour
1/4 teaspoon baking powder
Directions:
Grate the cheddar into your mixing bowl. Use the smallest size grater you have. I now use my microplane grater and it's perfect for these. If the cheese is too thick, it will not mix as well with the butter. (I have learned a few tricks as I have been working on perfecting this recipe for years now:)
Cut the stick of butter into pieces.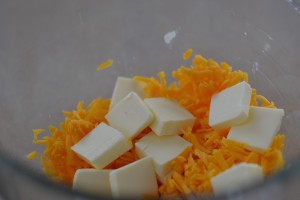 *The cheese in this photo is grated too thick….this was before I knew better!
3.  Use the dough hook to combine the cheese and butter. Make sure you let it mix completely.
4.  Add the salt and red pepper and mix well.
5.  Sift together the flour and baking powder.
6.  Add the flour mixture to the cheese mixture.
7.  The dough should come together and start to form a ball. This may take a few minutes, but it will happen.  Scrape the sides of the bowl down a few times during mixing. *The dough will look crumbly and like it will never come together but be patient and let the mixer mix until it does!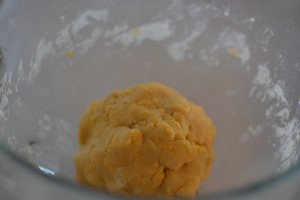 *The dough should be a smooth ball. This is a terrible photo that shows what happens when the cheese isn't grated finely enough and doesn't mix in as well as it should. I need to take some recent pictures for this post!
8. Grab your cookie press and load it full of dough. Use the star disk to get the straw like shape.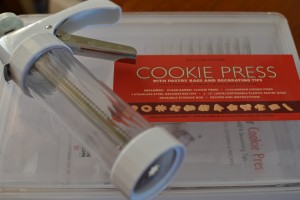 9. Bake cheese straws at 350 for 15 to 18 minutes.  To see if they are ready, lift one cheese straw and look at the bottom. It should be slightly browned and they should be slightly crisp. Don't cook too long or they will burn, but you also don't want to under cook as then they will be soft not crunchy.  To me getting the cooking time adjusted perfectly is the hardest part!  Just keep an eye on them! I also like to cook two trays at once. Halfway through baking I switch the positions and move the top one to the bottom and the bottom sheet to the top. Just to make sure they cook evenly.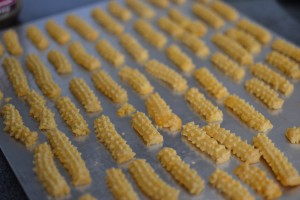 I sure hope your enjoy my Grandmother's cheese straws as much as we do!